Courage calls on the NDP, Greens, and Liberals to condemn Trump's Middle-East plan
Canada must not be a partner to violations of international law and the inalienable rights of Palestinians
The Trump administration's so-called "deal of the century," presented last week alongside the recently indicted Israeli PM, offers no chance for a just and lasting peace. Rather, Trump and Netanyhu's plan serves only to further strip Palestinians of their rights and consolidate the colonial takings of Israel over the last five decades.
The plan, drafted without consultation of the Palestinian Authority, the Palestinian Liberation Organization, or Palestinian civil society, entirely favours Israel and its colonial aims. It would grant Israel sovereignty over illegal occupations in the West Bank, which have for decades increasingly robbed Palestinians of their land and resources, in violation of international law and with no redress for the victims or repercussions for the offender . It would also greenlight the Israeli annexation of East-Jerusalem, as well as the Jordan Valley, and the Golan Heights. This plan would lock Palestinians into a series of separate bantustan-like territories connected by segregated bridges and tunnels with no borders outside of Israel's.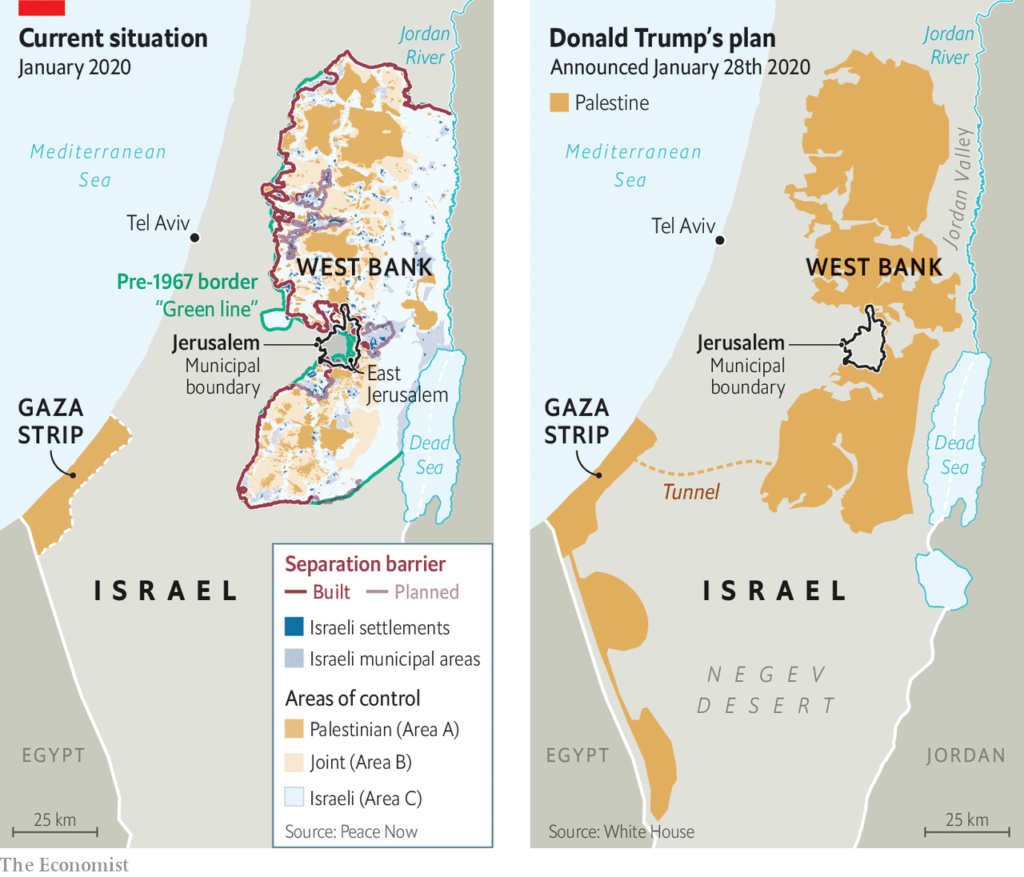 The plan would also prevent Palestinians from taking any legal actions against either Israel or the United States at any tribunal, and it would force them to dismiss all pending actions, including the War Crimes investigations against Israel currently before the International Criminal Court.
Missing from this plan is any real move to address the question of the rights of Palestinian refugees, one of the largest U.N. recognized refugee populations in the world. U.N. resolution 194, re-affirmed every year since 1949, affirms that Palestinian "refugees wishing to return to their homes and live at peace with their neighbours should be permitted to do so at the earliest practicable date, and that compensation should be paid for the property of those choosing not to return and for loss of or damage to property which, under principles of international law or equity, should be made good by the Governments or authorities responsible."
Canadian politicians must speak up and support international law. This renegade "peace" proposal is an attempt to enforce subjugation of the Palestinian people's rights as refugees and human beings with equal rights. The NDP, Greens, and Liberals must voice their support for U.N. resolution 194 within the context of any peace agreement.
Any legitimate deal between Israel and Palestine must guarantee the long denied freedom and dignity of Palestiniansand enshrine the Right of Return for Palestinian refugeess. Anything else is a contribution to the ongoing colonization and to mass violation of international law.
We call on the NDP, Greens, and Liberals to denounce this plan and to defend the right to self determination of Palestinians, including the Right of Return for Palestinian refugees. Canadian political leaders must also call for long needed sanctions against Israel in order to end Canada's long standing economic and political support for decades of illegal military occupation and illegal Israeli settlements.